I wrote the post below two years ago (24/01/2007, when doing some maintenance on my blog that was powered by Blosxom), but it never got posted because it got misplaced in the slipstream of files that find their way into (and out of) my server. I found this file today, and I feel I must post it.
Zubidou, "our" cat, is not amongst us anymore, having been caught by a car. I think that, more than say that I miss the darn cat, this old post transmits better the way we feel.
Here goes the old post:
Up and running
Finally I found the time to re-place my blog online, following my server maintenance. No comments this time, too much spam. Maybe later.
Meanwhile, I've been enjoying my land. Nature is all around you here, and it's not shy to show itself. I'm starting to understand the land, learning many new tricks of nature. Preparing and tending the vine for the 2007 wine season is my challenge for this year.
Vale de Cambra is a wonderful place to live in. It's mountainous area greets us with beautiful landscapes and ravines, the Sun loves to shine up and down it's slopes, and the Wind playfully dances amongst it's peaks. The air is pure, the life is simple, tradition is just around the corner (as is the most modern technology). Stray yourself a bit from the main street and you'll be soon diving into the woods or old villages. Traffic jams are nonexistent (unless it's wireless network traffic jams, there's a free hotspot near just about every public structure), and the road surfaces are generous. The climate is a bit harsher than the rest of Portugal (Summer is warmer and Winter is colder), but also gives us many, many beautifully balanced days.
In one of these days of sunny equilibrium, namely my wife's birthday, we had an unsuspecting visitor: an adult cat, very dirty but very sweet, appeared out of nowhere and just laid there under the table while we had lunch outside.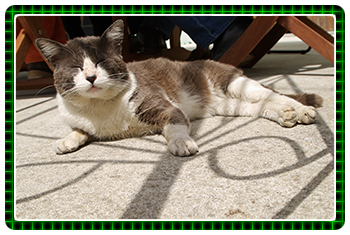 We cuddled it a lot, and the cat seemed to be very accustomed to people, and to being well treated. It was definitely a house cat. From that day on, the cat just wouldn't let go. Living around our house, and managing to keep his bit of territory amongst the other cats of the neighborhood (expelling our neighbour's dominant cat), Zubidou won us over. For that's how we came to call it.
Zubidou feels right at home here; although he normally wants to come into our home, lay on our tapestry by our side and just follow us around all day, we almost never let him in.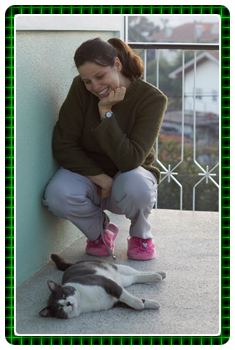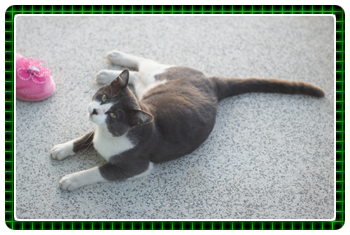 He does have a problem with being alone, and when he sees us he just follows us around and lays there by our feet when we stop. Even when we delve deep into the city by foot…
He conquered his place in this World, and we help him out with good food, lots of attention and petting when we're outside.